Barbara Gray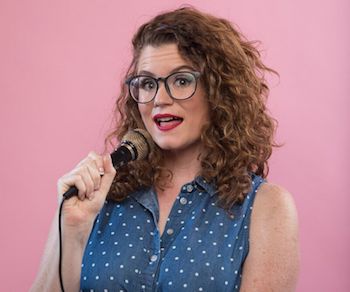 Big hair. Big heart. Big mouth. Her intense yet goofy stage presence combined with vulnerable and dark material have made Babs a staple of the Los Angeles alternative comedy scene. She guest starred on two seasons of Comedy Central's "Corporate" and has written for shows such as "Billy on the Street" and "Justin Willman's Magic for Humans." Her standup has been featured on HBOMax, Comedy Central's Standup Featuring and Hulu's Coming to the Stage, as well as festivals and venues across the world. She and Tess were featured in "Framing Britney Spears" on Hulu, due to their podcast that kinda sorta kicked off the #FreeBritney movement, leading to the investigative pod "Toxic: The Britney Spears Story." Her debut comedy album "IF I DID IT" is now available on A Special Thing Records. See more of Babs at www.myjokesareuphere.com.







Brandie Posey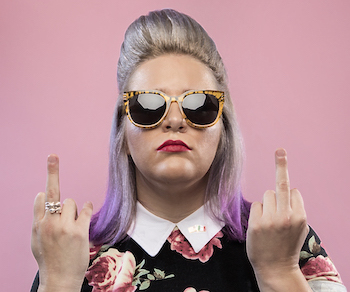 Brandie Posey is a stand up comedian, writer and producer with the East Coast in her bones who loves calling LA's comedy scene home. She has been featured as a performer at the New York Comedy Festival, RIOT Comedy Festival, San Francisco Sketchfest, FEST in Gainesville, Bridgetown Comedy Festival, The All Jane Festival, High Plains in Denver, Punk Rock Bowling, among many others.
She has opened for all of your favorite comics, including Kyle Kinane, Maria Bamford, Jackie Kashian, The Interrupters and the legendary punk band Against Me! Brandie has appeared on MTV, E! and Comedy Central in addition to a number of indie films but who knows when those will come out. Her first stand up record "Opinion Cave" debuted at #1 on iTunes & #12 on Billboard.com.
Brandie brings the DIY edge of her punk past to her comedy & has been described as a "Riot Grrl on acid" onstage. She tours the country headlining every dark corner with a microphone that will have her… seriously she has played some real doozies. Brandie is the co-creator & host of Picture This!, the popular comedy-animation show with franchises in LA & New York. Picture This! recently shot a pilot for TruTV in partnership with Page Hurwitz & Wanda Sykes' Push It Productions. You're on this page so you probably now all about Lady to Lady, her podcast with Barbara Gray & Tess Barker. And if you don't, then go subscribe so you can stop embarrassing yourself. Brandie is now & will always be a ska kid, lives in a double wide mobile home & drives a Scion xD with a mural of Abe Lincoln fighting a T Rex in space on the side of it.
Tess Barker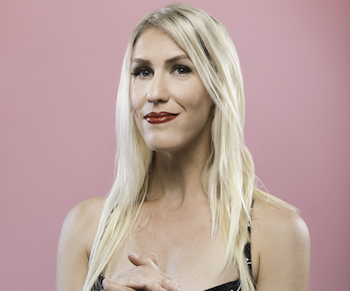 Tess is a Los Angeles based writer and nationally touring comedian who has appeared at the Comedy Central Stage, Meltdown Comics, UCB, and at clubs and colleges throughout the country. She has written for TVLand's "Throwing Shade," TruTV's "Billy on the Street," and is regularly published on a number of outlets, including Vice, The Guardian, Vox, MTV News, Jezebel, and L.A Weekly, where her work has ranged from investigative pieces about wage inequity in professional cheerleading to profiles of icons like Charo and Betsey Jonson. She was one of the hosts of Ovation TV's "Broadway Bash," — a talk show devoted to the television show Smash. She holds a B.A. in Screenwriting from Loyola Marymount University, and is the co-bookwriter and lyricist of "Time Between Us," an original two person musical, which premiered in New York as part of the 2011 New York Musical Theater festival, where it was named Critic's Pick, and has since enjoyed a number of regional productions, including at Serenbe Playhouse in Atlanta, GA. Tess's work has been performed and taught at institutions from Emerson College to Yale University. She is one of the producers and hosts of Lady to Lady, a popular podcast on the Maximum Fun Network; live talk show at the Upright Citizen's Brigade in Los Angeles; and regular SnapChat series on Comedy Central. When she's not writing or doing stand up, Tess enjoys dogs, running, and talking about Britney Spears.